PROTECT YOURSELF WITH OUR GOVERNMENT APPROVED D.O.T MOTORCYCLE HELMET PACKAGE:
- ADD FULL FACE LIGHTWEIGHT HELMET FOR $89
‼️

NOT CARB APPROVED FOR CALIFORNIA
‼️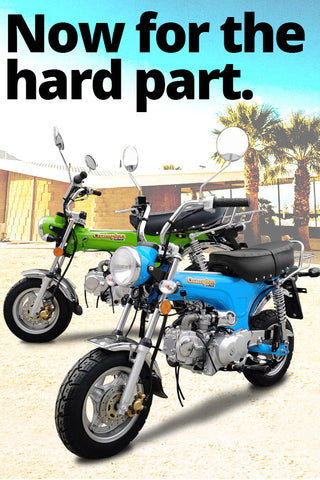 Features
FREE

ResidentialHomeDeliveryW/ Liftgate

FREE

1-YearParts Replacements Warranty

FREE

1-Year Engine/Tranmission Warranty
FREE Registration Paperwork (Title MCO + Bill of Sale)

Upgraded

4-Speed Semi-Automatic Transmission

Upgraded

Double Padded Leather Seats

Upgraded

Dual Shocks + Dual Forks Suspension

Upgraded

Chrome Sideview Mirrors + Handlebars

Upgraded

LED Turn Signals + Brake Lights

Upgraded

10" Aluminum Plated Steel Rims

Upgraded

Chrome Plated RearShocks
CT70 Trail 70 Clone

Electric Push Button Start

Backup Kick Start

125cc Single-Cylinder 4-Stroke Air Cooled Engine

4 Speed Semi Automatic Transmission

Chrome Plated Exhaust

Upgraded High Performance Chain

Chain Drive

Seat Height 29 inches

10" Rims

TwoSeater

Front Disc Brakes & Rear DrumBrakes

Top Speed 50MPH

PBZ125-2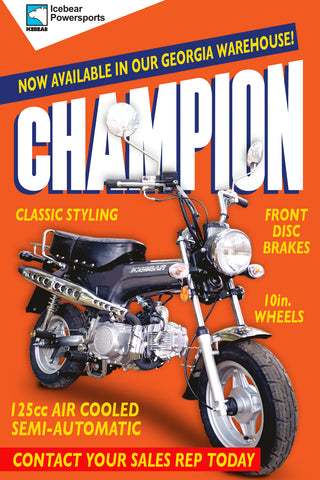 Introducing the ALL NEW Icebear Champion PBZ125-2 Motorcycle. This is a nice combination of a Motorcycle and a Moped scooter. This is the replica clone of the CT70 mastered to look exactly like it!
(Video) Ice Bear Champion First Start
a
A
The 125ccMonkeyis fitted with a performance chain drive 4 Speed SEMI-AUTOMATICtransmission that makes it easier to practice learning the real manual. Less experienced riders just need to hop on, twist the throttle and go. This model is perfect for any traffic condition, as the SemiAutomatic transmission does not only make acceleration and deceleration easier, but also faster and more fun to ride!
a
A
One of the many safety features of the PBZ125-2 Icebear Champion Scooteris - it is fitted with front disc andrear drumbrakes, which makes deceleration more efficient. A quick, fast and better stopping performance is guaranteed whenever the brake is applied. Due to the use of disc brakes, there is no/little risk of wheel overheating whenever the brake is applied. Easy replacement of the brake was also considered in the design and manufacturing of the moped scooter.
a
a
(Video) Icebear Champion 125 (Ct70 Clone) Vlog 16 125cc Stock Carb Speed Test
The ChampionMoped style Motorcycleis also fitted with strong, durable and reliable tires, which offers great traction. Hereby, aiding the brake, which makes riding safer. These tires were designed to conveniently ride on at the highest comfort level.
a
a
Enjoy a relaxing ride as the heavily padded, beautiful leather seat of the mopedgives you maximal comfort for both you and the passenger.
a
a
Bright, long lasting head and taillights were fitted to lighten up and provide visibility all around the bike while riding on dark roads. The chrome platedexhaust wasput in place to give nice acceleration sounds and high performance riding.
a
(Video) Ice Bear Champion125cc!! CT70 Clone
a
It is always important to always wear DOT approved helmets and gears when riding. EPA and DOT approved and can be registered in pretty much all states excluding California.
!!

Riding Video

!!
Specifications
Engine
125cc, LC152FMI, Loncin
Transmission
International 4 Gears
Drive Type
Chain
Belt and/or Chain Size
Starter System
Electric / Kick Start
Fuel System

Gasoline - 1.7gal

Carbureted

Brakes (Front/Rear)
Disc / Drum
Tire Size (Front/Rear)

3.50-10 Front

2.75-10 Rear

Wheel Size (Front/Rear)
10, Steel
Oil Capacity and Type (L)
0.8L, Air Cooled Motorcycle Oil with Clutch Additive
Gear oil type and capacity( in liters)
N/A
Battery
12V/4Ah
Lights
Standard Lights
Suspension (Front/Rear)
Dual Forks / Dual Shock
Dimensions (inches)

Assembled (LxWxH): 65 x 23 x 39

(Video) 2020 Icebear Champion 125cc (CT70 Clone)

Crated (LxWxH): 53 x 18 x 33

Seat Height: 29

Wheel Base:41.8

Weight
265 lbs
Weight Capacity
312 lbs
Ground clearance (inches)
4.9
Assembly Required
Handlebars, Mirrors, Headlight, Front Wheel, Front Fender, Shift Lever, Battery
Special Features
EPA Approved
EPA Approved
a
‼️

NOT CARB APPROVED FOR CALIFORNIA
‼️
Colors available: Red,Black,Blue,Green
*PLEASE READ OUR TERMS & CONDITIONS SECTION BEFORE ORDERING*
ice bear champion moped scooter pbz125-2 buy online with free shipping Honda ct70 clone semi automatic motorcycle manual transmission moped scooter no license moped scooter motorcycle 125cc semi automatic icebear champion reviews champion 125cc moped scooter motorcycle Honda ct70 clone for sale local dealership free online shopping 1970 Honda ct70 clone 1970 Honda ct70 clone pbz125-2 cheap moped scooter cheap 125cc motorcycle Honda clone moped scooter motorcycle buy online trusted website
FAQs
Honda's classic Monkey returns for 2022 with new upgrades and even more retro vibes while losing none of the fun. The Monkey now has a Euro5-compliant 124cc single-lunger shared with the Grom, making 9 horsepower and 8 lb-ft of torque, good for a 56 MPH top speed and an astounding 188 MPG.
How fast does an icebear champion go? ›
With its' 4 speed semi automatic transmission it has good acceleration and a top speed of around 50 mph.
How fast is the Honda Monkey 125? ›
The official stats are 9 horsepower and 11Nm of torque, with an overall estimated top speed of 65mph.
Are Monkey bikes good? ›
What's the difference between Honda Grom and Monkey? ›
The biggest difference perhaps is styling, with the Grom's mini-sportbike look vs. the Monkey's '60s-cool retro look. Otherwise, in their latest model years, both the Grom and Monkey sport 125cc fuel-injected engines, though the new 2022 Grom has a higher compression ratio that increases power.
How many miles per gallon does a Honda Monkey get? ›
Honda doesn't have a specific fuel economy number attached to the Monkey, but Ride Apart estimates that it should get around 188 mpg or around 200 miles for a full tank.
How fast does a trail 70 go? ›
Bone stock, the Honda Trail 70 can reach up to 47 mph (75 km/h) – at least for post-1970 CT70 trims. On the other hand, Honda Trail 70 top speed for 100-cc converted machines can go up to 77 mph (124 km/h) or even higher, depending on the kind of mods done on the dirt bike.
Who makes Icebear champion? ›
Icebear Champion 125cc Street Bike(PBZ125-2) - Pioneer Powersports.
How much does an icebear champion weigh? ›
How fast will a Honda Monkey bike go? ›
As long as the road you're on has a speed limit no higher than 50 mph, the Monkey does fine. Top speed varies considerably, depending on the road's grade and the rider's weight. While we've hit over 60 mph on the Monkey on downhills, consider anything over 50 mph a bonus.
In stock form, the Monkey can eventually hit 55 mph on a flat road, but it might only reach the high 40s if you encounter a hill or a headwind. However, add a handful of bolt-on mods and it should top 70 mph, enough to enable a daring sprint down the highway.
How fast does a Honda Monkey Girl? ›
How fast does the 2022 Honda Grom go? ›
Nonetheless, due to its top speed of about 60 mph, the Grom is too small to take on the freeway, not that I'd be inclined to do so even if I could. A larger 1.6-gallon tank (up from 1.45) will help the fuel sipper go even farther between fill-ups – last year's model got an EPA-tested 134 mpg.
Is the 2021 Honda Monkey a 5 speed? ›
Now, it probably won't surprise you to learn that Honda took the newly-updated 125cc engine introduced in the third-generation Grom, and has now put it inside an updated Honda Monkey. That means the new Monkey now gets a 5-speed gearbox, which will be a definite plus for riders.
How fast can a Monkey bike go? ›
55 mph (Est.)